E-Detective Data Guard System (Real-Time)
Unauthorized internal/external data access and attack to organization internal file servers or database system have become very common issues nowadays. Staffs nowadays can easily access to information shared in the organization networks including the Database (customer information/vendor information etc.) and internal confidential/non-confidential files stored within internal network (usually at Server Farm). We read about cases of customers information stolen by internal staffs in banks, financial organization or Government organizations and this information are then sold to competitor or other marketing profiting parties. We experience it ourselves as well as we picked up some calls from banks or credit cards related party which we never has any relationship with and asking us to subscribe to their services. All these are serious issues in all organization that does not have sufficient protection to their internal Database and File Servers systems.
E-Detective Data Guard System is used for monitoring and logging all accesses and activities to internal Database (MS SQL, MySQL, Oracle DB etc.), CIFS file servers, local email servers (POP3/SMTP/IMAP), Webmail (Zimbra Mail), FTP servers etc within the organization networks. It also comes with alert and notification functions which allow the Administrator to be alerted if a certain pre-configured condition is matched/triggered. Besides, it has full range search and query capability and a range of reporting function.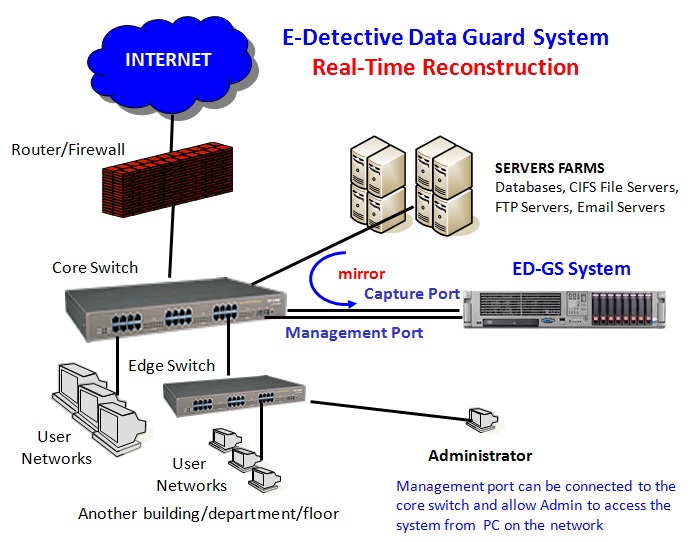 Diagram: E-Detective Data Guard System Mirror Mode Implementation - Organization Intranet Traffic Monitoring