E-Detective Backup Server (BS) is designed for viewing Backup ISO Data (Reconstructed Data backup by E-Detective System).
Provides a User Friendly GUI. Easy to import (mount ISO) and view the Backup Content especially for large amount of Backup ISO Files.
Capable to mount and view multiple Backup ISO Files at the same time.
Works with E-Detective system for Auto FTP Backup function. Allow Auto Backup ISO File in E-Detective to be stored in Backup Server.
Search and Advance Search functions provided to search into Backup ISO Content or specific Backup ISO Content.
Easy Management of Backup ISO Files.
Sample Screenshots of ED Backup Server : (Show screenshots)
References – Implementation Sites and Customers
Criminal Investigation Bureau
The Bureau of Investigation Ministry of Justice
National Security Agency (Bureau) in various countries
Intelligence Agency in various countries
Ministry of Defense in various countries
Counter/Anti Terrorism Department
National Police, Royal Police in various countries
Government Ministries in various countries
Federal Investigation Bureau in various countries
Telco/Internet Service Provider in various countries
Banking and Finance organizations in various countries
Others
~~~~~~~~~~~~~~~~~~~~~~~~~~~~~~~~~~~~~~~~~~~~~~~~~~~~~~~~~~~~~
The E-Detective Data Retention and Management System (DRMS) is commonly used as a backup server for the E-Detective system. Data captured and reconstructed by the E-Detective system can be backed up automatically (by schedule - daily, weekly and monthly by FTP upload) to the DRMS for archiving and storing for longer period of duration. The DRMS provides the administrator an easier management GUI to view and search/query the content of backup data. Larger storage space catered for DRMS allows longer data retention periods. Furthermore, an external NAS can also be used to store backup data from E-Detective systems and the DRMS can be used to access the NAS (through mounting) and retrieve all the backup data.
Besides implementation in SME and Enterprise scale networks, DRMS can also be used for Lawful Interception (LI) implementation. In large network interception (such as ISP networks) cases, multiple E-Detective systems are usually used to handle the parsing of huge Internet traffic. The data captured in the E-Detective systems will be huge and easily fill all available internal storage. Therefore, the DRMS can then be used as a data backup system to store much more data with its larger storage and allow the administrator to easily navigate through the GUI and search for the intended data.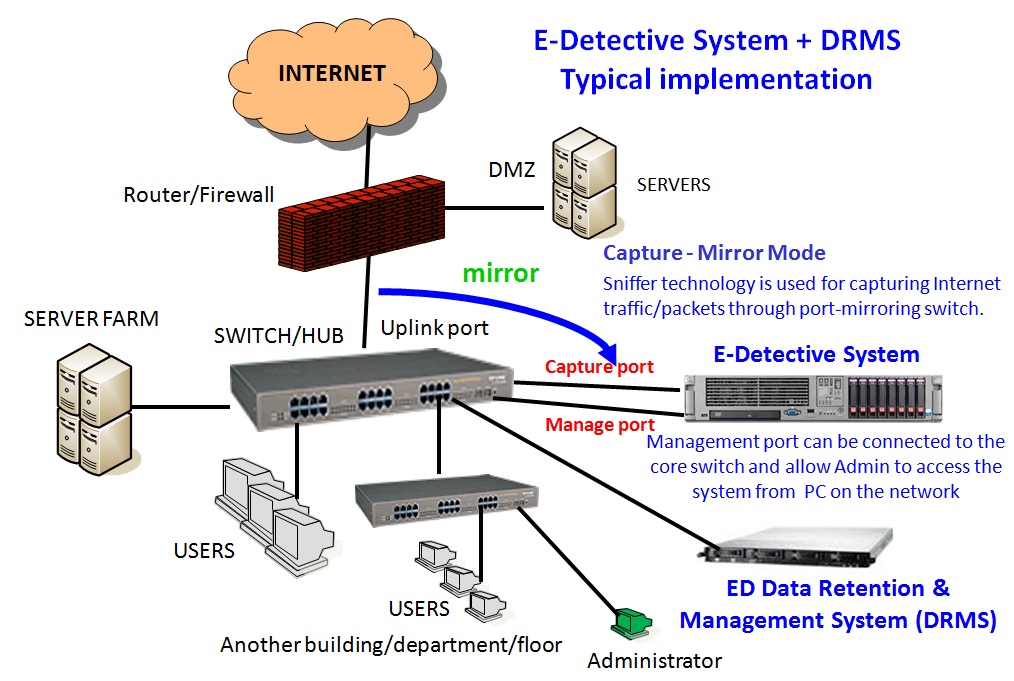 Diagram: E-Detective Data Retention & Management System (DRMS) is used in archiving the reconstructed stored in E-Detective System.
This allowed longer period of data archiving and retention for further reference.